Lin Dan is the arguably the greatest men's singles badminton player of all time. He has won every title there is to win in the world of badminton. Often dubbed as "Super Dan", his play was characterized by speed, relentless attacks and explosive power. Combined with his electric and charming personality, Lin Dan has been the the crowd favourite for nearly two decades now. As he approaches the late years of his careers, the decorated Chinese player has now shifted to a more rallying and counter attacking style of play.

Major Achievements:
2 times Olympic Gold Medallist – 2008, 2012
5 times World Champion
2 times Asian Games Gold Medallist
6 times All England Championships

Lin Dan has the following words tattooed on his arm – "Until the end of the world". This line comes from a song of his favourite anime Slam Dunk.
.
.


YONEX VOLTRIC LD FORCE – RED VARIANT
2019 – 2020 (Retirement)
VOLTRIC LD FORCE MATTE BLACK
2018 – 2019
Currently Lin Dan might be using the Yonex Voltric LD Force (Matte Edition).
However by the shape of the racket, among other reasons, the racket he is using is most probably the YONEX VOLTRIC Z FORCE 2.

There is a long ongoing conspiracy theory with Yonex. Top players usually don't change their racket model very often for obvious reasons. However to boost sales of new racket models, Yonex provides these players their original rackets spray painted to look like the new models. In my opinion, strictly speaking, this is a scam to its loyal customers.
Also for anyone who has used both the rackets, the Voltric LD force pales in comparison to the Voltric Z force 2 in all departments – power, accuracy, flex. There is no way Lin Dan might be using such an inferior racket like the Voltric LD force. This is why I say Lin Dan might still be using the Yonex Voltric Z force 2.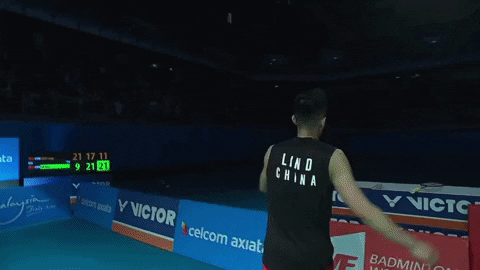 VOLTRIC LD FORCE GOLD EDITION
2016 – 2018
As discussed earlier, this is again most probably a painted Z force 2.
YONEX VOLTRIX Z FORCE 2
2014 – 2016
Lin Dan (technically the whole Chinese Team) was in contract with Li Ning brand. In 2014, Lin Dan started using an unbranded Z Force 2. After discontinuing his contract with Li Ning in 2015 and signing with Yonex, Lin Dan started using the Yellow and Red versions of the Voltric Z Force 2 – his limited edition models.
The Yonex Voltric Z Force 2 might yet be the most iconic racket which has ever been released by Yonex. It was released before the 2014 All England. This racket is primarily meant for singles players as it has a head heavy frame.
The racket will be suited for players who have an attacking style of play. It performs well with overhead attacking shots but it lacks a little bit for defensive shots. You will need to have a very good wrist technique to hit your shots well using this racket.
LI NING WOODS N90
2008 – 2013
In the first half of his career, like we see in this photo, Lin Dan always used to put white tape on top part of the head of the racket. Maybe this made the racket more head heavy for his attacking play, maybe he wanted his racket to be different from everyone else's.
YONEX ARMOTEC 700
2008 & Before
The Yonex Armotec was a popular series back in the days. Both Lin Dan and Lee Chong Wei used this racket.